ST145/R12 Tires are a radial, 12 inch trailer tire.
They come in a variety of load ranges, Load range C, D, and E.
The size can be read in a few different ways, 145R12 , ST145R12, or ST145/R12.
These radial 12" tires use the same size rim as a 4.80x12 or 5.30x12 tire.
This tire commonly uses a 4" wide, 12" wheel (12x4).
Usually a 12x4 or 12x4.5 wheel is used.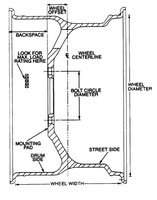 They carry a load of 1520lbs per tire when filled with 80PSI of air.
Radial tires such as this ST145/R12 are best when trailers endure long trips,
the radial design allows the tire to sit "flatter" on the road,
allowing more tread to meet the road.
This improves the tread life of the tire. While these tires may be a bit more
expensive than bias ply 12 inch tires, you can be assured that you will
be receiving a quality tire made by Kenda.
The ST145 R12 E Trailer Tire is one of the best trailer tires
on the market today and is manufactured by Kenda.
The computer generated tread design in conjunction with a new tread
rubber compound provides superior traction in wet or dry conditions.
Kenda's radial tires are continually tested to help ensure a
smoother ride while providing additional stability at highway speeds.
All Kenda trailer tires are proven to improve handling and
enhance the ride characteristics of the towed vehicle.